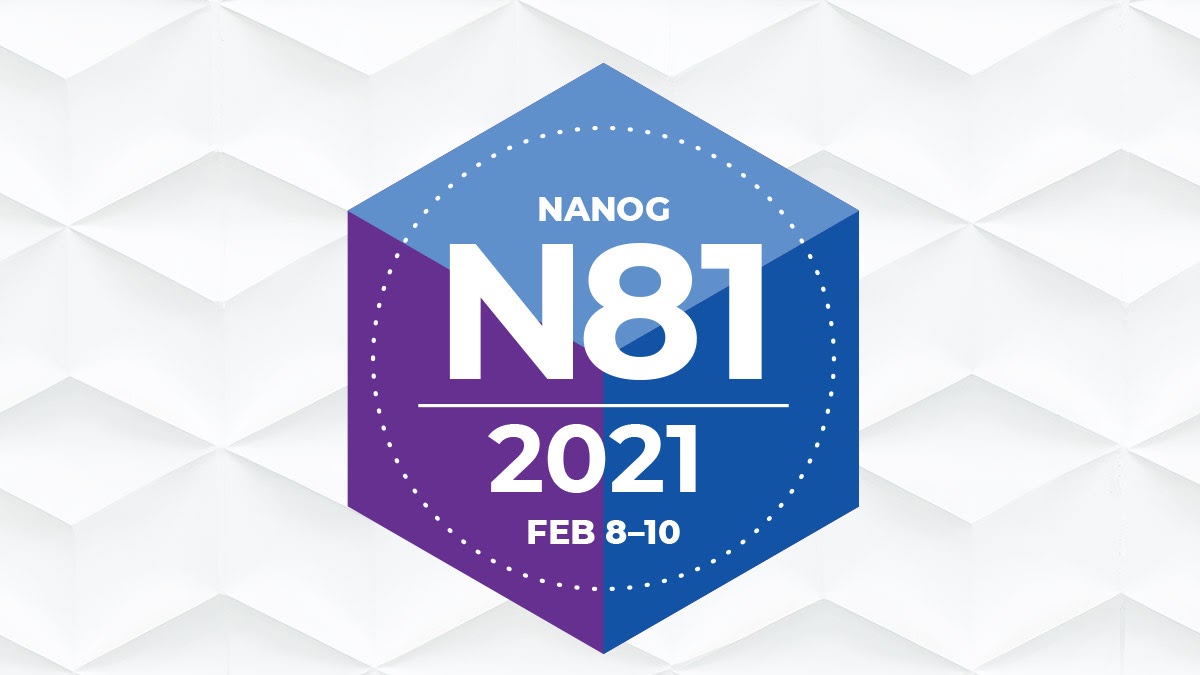 The first of NANOG community-wide virtual conferences was held last week, Feb 8-10, 2021. The event was attended by a record number of 900+ registered attendees from different disciplines including network engineers, industry veterans, developers, and entrepreneurs.
Tina Morris from Amazon Web Services (AWS) and Steve Feldman from ViacomCBS kick-started the event by welcoming the attendees to the virtual conference.
Conference Highlights
This year's NANOG included a classic crowd favorite- the hackathon, which was followed by a round of trivia during each break. The Virtual Hackathon was focused on the theme of configuration modeling. They chose this theme, because "regardless of whether you're operating green-or brown-field networks, all network engineers interested in automation will eventually need to read configurations from a network to ensure they adhere to standards, deploy configurations from a source of truth, or reason about the intended state of the network." After the trivia fun, there was a Zoom Newcomers Networking Session to help everyone feel welcome, which then proceeded the official #NANOG81 members meeting. They saved the best for last with an Interview on Women in Tech with Microsoft's Terri Jordan. The event also involved a series of presentations from industry leaders on several topics touching on Networking.
For those who were not able to attend, here is a recap of some of the most anticipated talks and sessions:
A Brief History of Router Architecture – Tony Li, a pioneer in internet routing for 30 years, gave the first keynote which focused on a complete review of the history of router architecture pinpointing their flaws and advantages. Li gave a comprehensive overview of what has gone wrong and what has gone right down through the ages from the earliest days of the bus-based networking systems to today's multi-chassis monstrosities.
Also, and most importantly, he gave a shout out to donuts…

Next-Gen Core Networks – Mannan Venkatesan, a distinguished Engineer at Comcast provided an overview of Comcast's Core Backbone Networks evolution to keep up with traffic demands. His presentation was geared towards addressing the challenges faced by service providers on their core networks as they try to cope with the high traffic growth.
In his presentation, he highlighted some of the challenges they face, and how they are addressing them and also shared some lessons they have learned from the deployments.
Flexible Algorithm – Shraddha Hedge is a Principal Engineer in Juniper Networks' Routing Protocols Group and who has over 20 years of experience in building and deploying highly scalable data-communications platforms. Their experience includes the areas of IGP, FRR, Segment Routing, MPLS, and IP Security, and they made a presentation on Flexible Algorithm, which enables the creation of separate topologies in a single IGP.
Multicast in Segment Routing Networks – Jeffrey Zhang, a Senior Engineer at NetStrategy Pty Ltd with over 10 years' experience in Wireless networks with commercial and academic approaches, gave a presentation delving into SR principals and corresponding multicast options, with focuses on SR-P2MP, BGP/controller signaling, and integration with seamless inter-region SR and classful BGP transport.
Securing Internet Applications from Routing Attacks – Jennifer Rexford, Gordon Y.S. Wu Professor of Engineering, and the Chair of Computer Science at Princeton University who have worked on a variety of projects including designing tools for network measurement, traffic engineering, and router configuration that were deployed in AT&T's backbone network, gave the second keynote touching on securing internet applications from routing attacks. She spoke about application-specific routing attacks and made some compelling points that both application-layer and network-layer defenses are essential and urgently needed in securing internet applications from routing attacks.
Measuring ROA deployment at the top of the DNS – Edward Lewis, a Senior Technologist in the Office of the CTO at ICANN who has worked on a variety of Internet registries including gTLD, ccTLD, sTLD, and RIR and also co-chaired the original IETF WG that developed EPP, gave a presentation on how to measure ROA deployment at the top of DNS servers touching on the analysis of the adoption measurements including the various categorizations like IPv4/IPv6, and gTLDs/ccTLDs/reverse map.
Automation without Config Deployment – Kenneth Celenza, the VP of Professional Services at Network to Code, gave a 30 minute presentation on why you should forgo configuration deployment in network automation and best practices when doing this. He spoke on how to integrate with a Source of Truth, generate configurations from a Source of Truth, building an automated pre & post-check process, and integrating with network management systems and also gave a pragmatic approach to attacking network automation tasks that will appeal to engineers and executives alike
XDPeriments: Tinkering with DNS and XDP – Willem Toorop, a developer and researcher at NLnet Labs, explored how DNS can benefit from XDP giving real-life examples using usable running code. He also showed how XDP programs can be used to deal with Denial of Service (DoS) attacks and/or otherwise tweak their DNS service behavior.
In closing, while we're all beginning to get used to conferences taking place virtually, we do miss seeing our colleagues and enjoying the capers from years of NANOG past… We hope to see you back at another NANOG IRL very soon!