Peering Manager
Powerful peering communication automation and BGP session management - integrated with PeeringDB data
One-click BGP session configuration across global peering exchanges and routers for easy automation of typical peering tasks
6connect's Peering Manager is unique in the industry and is currently the only solution of its kind used in production environments and international peering exchanges. With distinct modules for managing peer requests and integrate session configuration for accepted peers, this ProVision module allows for maximum from productivity within minutes of installation.
Features
Peering Communications Manager provides complete list of Peers at each exchange and can send out requests on your behalf
For Approved Peers, ProVision can immediately configure BGP sessions for the peer across all your exchanges and router infrastructure – even if they use different vendors.
Peering Session Manager provides simple interface to see session status by Peer, Router and by Exchange
Imports peer groups (IPv4 and IPv6) from existing routers
Updates ASN information for contact data, manages ASN at IRR Filtering, and finds missing sessions per ASN and Exchange
Configures peering sessions 
automatically and sends down session information and 
alerts to NMS
Monitors BGP peering session state globally
API driven architecture allows for GUI driven workflows or integration with other systems
User Benefits
ProVision peering automation allows for streamlined management of peering connections and identification of peering opportunities for your ASN. We use data from your routing infrastructure and exchange points to generate peering request lists based on the criteria you specify using PeeringDB profile data. Depending on the level of integration, we can automate session turn-ups as well as route discovery to optimize your peering strategy. Our solution functions as a standalone installation or can integrate seamlessly with a 6connect ProVision deployment for more robust provisioning requirements.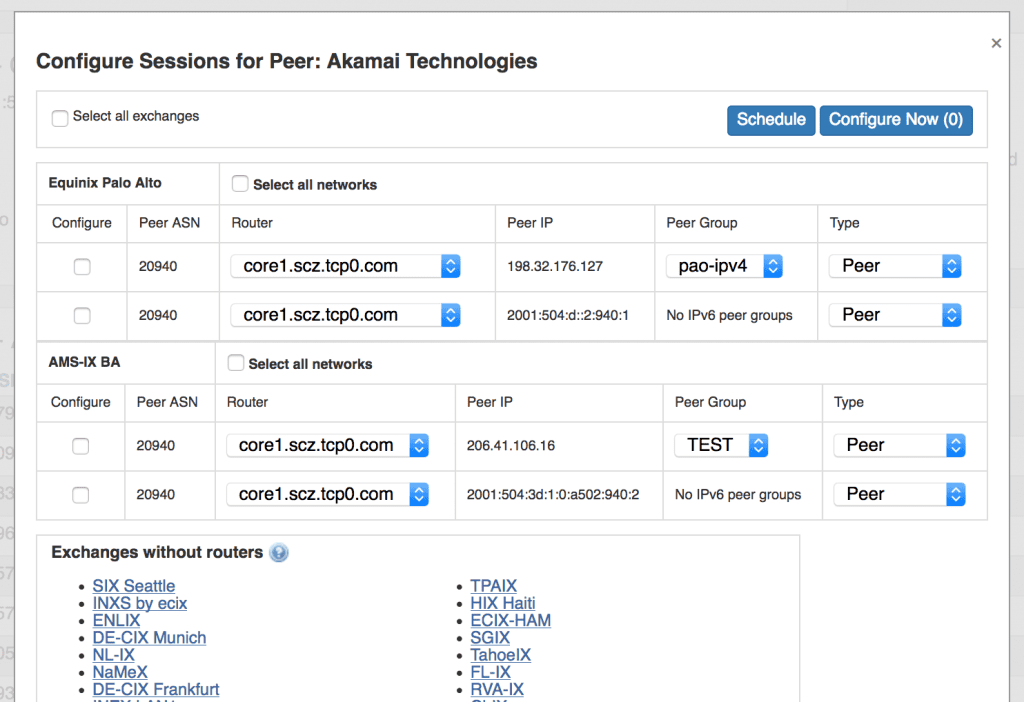 Contact us to request a demo, trial or just speak to one of our engineers.