6connect ProVision™
Dramatic time/cost efficiencies for planning, provisioning, and management of network infrastructure
Integrated object-based permissions give you delegation power for global network resource administration
6connect's mission is to create the software infrastructure needed to provision network-enabled devices by providing a flexible and dynamic management platform that can work from the cloud or behind the firewall.
The Challenges of Network Provisioning
Provisioning and configuring networks are manually intensive processes focused on individual, vendor-specific, network elements rather than the holistic provisioning of data centers across distributed networks and virtual environments. These manual configurations cannot keep up with rapidly changing devices and networks, creating outage risks for network and data center that forfeit revenue, customer trust, and delay the introduction of new services.
How ProVision™ Works
ProVision, 6connect's unique Dynamic Network Provisioning (DNP) platform uses a robust Connector Library to automate the provisioning, configuration, and control of devices across distributed networks present in datacenters around the world.  DNP's REST API provides easy integration and helps automate complicated and frequent network provisioning workflows for innovative customers like Dell, PCCW, Swisscom, iLand Cloud Infrastructure, Terremark and CyrusOne.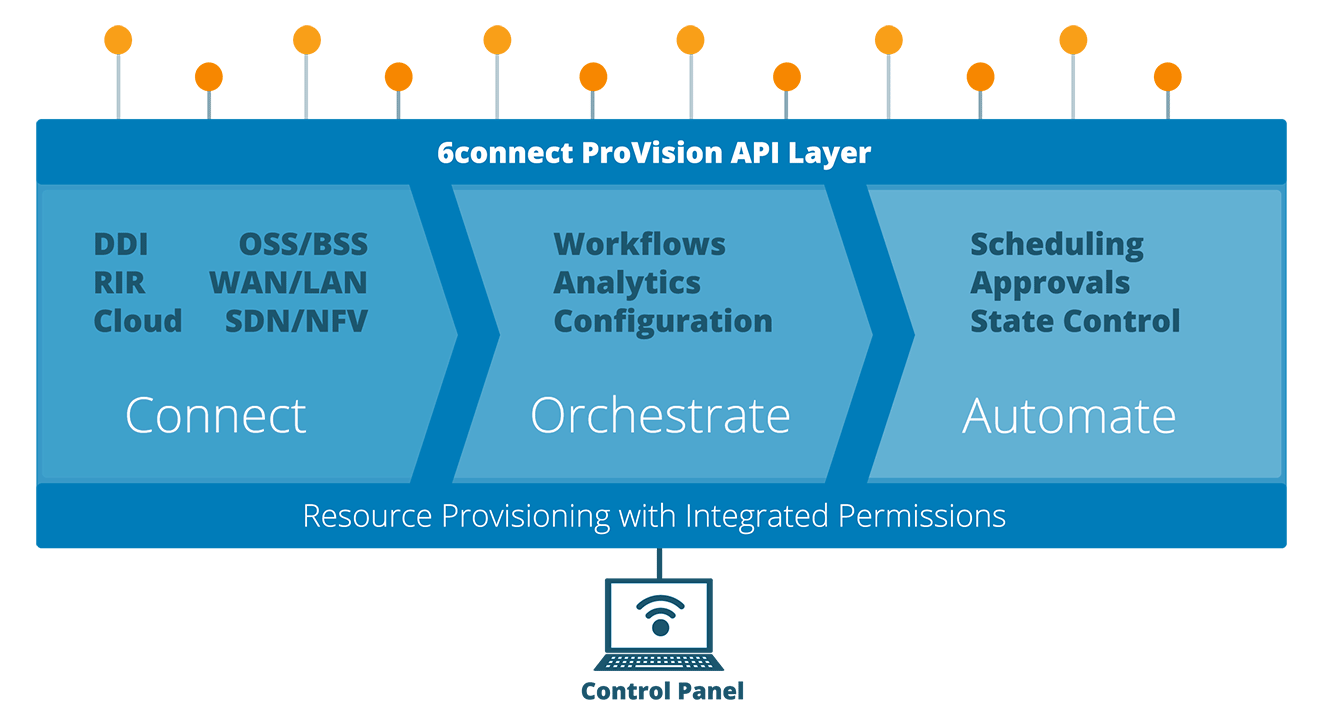 Our Service provider customers use our Connectors to control, interact and automate various infrastructure services through a unified interface. With the Connector Library supporting technology partners like ISC, Secure64, Dyn, PowerDNS, Cisco, Juniper, Brocade, Splunk, Salesforce and even RIR integration (ARIN, RIPE, etc.) – this flexible approach to provisioning allows customers to accelerate service delivery time, accurately provision complex network protocols, and dramatically reduce network complexity and costs.
ProVision Features
Service Provider workflows built-in – Functionality like a communication management for Peering, Multiple LIR support and RIR integration – these are features that save you time from first install.
Global permissions structure for each object – you have the ability to create groups and user accounts, but you can also set permissions down to the level of detail you need for any object in ProVision.
Resource Manager – Completely customizable resource management with flexible container structures, permissions and workflow integration. Track everything from cross-connects to contracts in one place.
IPAM – Complete IPv4/IPv6 support that can handle everything from subnet allocation management to host-level assignments to devices
DNS/DNSSEC Manager – Multiple DNS servers with multiple DNS technologies? No problem! We work nicely with a variety of DNS providers and you don't have to replace your current infrastructure unless you want to.
DHCP Manager – One stop configuration management for DHCP scopes? Done.
Peering Manager – One-click BGP session management across peering exchanges with included workflow features for communications tracking across exchanges.
RESTful API – Built-in API means simple integration into your current and future environment.
Contact us to request a demo, trial or just speak to one of our engineers.