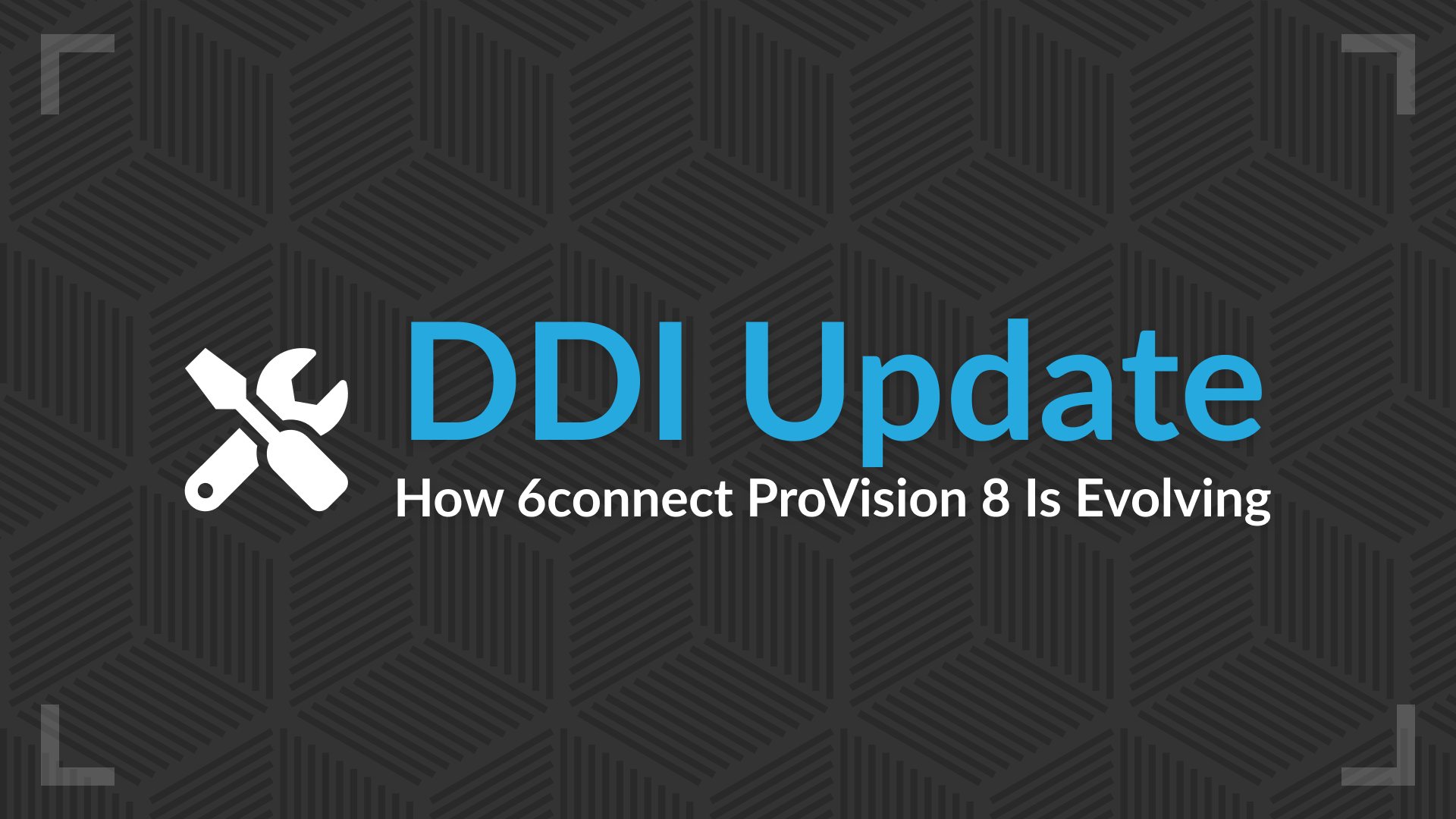 Networks are naturally complex ecosystems. To have a properly functioning network, everything has to come together properly to create a system that is both practical and secure. DDI – or DNS, DHCP, and IPAM – brings together the core components of a network into a solution that can make life easier for all involved. When these components are also affected by organic growth, changing IT teams and constant change, DDI takes on a whole different meaning.
It is with this concept in mind that 6connect is rolling out DDI options to augment multi-vendor and/or multi-cloud environments. Customers wanted options for more DDI integration points both from their existing platforms and other standards based DDI to reduce the limitations of proprietary systems. With more distributed computing taking place, we have rolled out features that can either work with existing DDI "as is" or provide an option for a single vendor solution depending on the IT team's preference and strategy.
The Ecosystem of the Future
With this goal in mind, how does this evolution of ProVision and DDI work? 6connect will still support other DDI vendor solutions through our family of Connectors, Plugins or other integration points. What is maturing is the lifecycle management capabilities of ProVision to work with DDI systems in place. Here is how our modules are adapting to the change:
DNS. Our DNS Module is expected to remain unchanged from the perspective of zone and record management. We have expanded in several key areas. The most obvious is the addition of lifecycle management for DNS servers. We are supporting more advanced tasks like patching, monitoring and server health checks, and integrating more dynamic interactions with ProVision for zone status and health overall. In terms of roadmap, we are also working on RPZ support across DNS vendors. We have heard from the field that managing various lists for DNS protections can be challenging especially with multiple vendors and feeds. We intend to take a similar approach as we did with DNS and allow for a centralized feed repository, but then distribute as needed in the appropriate connector methods for the target DNS server(s). We will continue adding support for various DNS platforms (self hosted and cloud).
DHCP. Our DHCP Module underwent the most drastic changes in ProVision 8 and for good reason. We understand the impact of DHCP across not only the IPAM Module, but provisioning and automation as a whole, so it needed some extensive updates to keep up. The result is that we took a similar approach to DNS and increased the level of management and automation for typical DHCP administration tasks, including scope management and monitoring. We worked to keep the interface consistent to reduce confusion, but ensure that we could support the new functionality in a reasonable way for the customers that want it. For example, customers reported that they needed various custom DHCP Options for their networks/use cases, and they were all very unique. So we made a DHCP Option generator. This allows for the customer to define their own DHCP options as needed and have complete control, while still leveraging ProVision. For the module's future, we see opportunities to further simplify the management of DHCP scopes and additional reporting options – and yes – Microsoft DHCP support is here!
IPAM. Finally, our handy IPAM Module received many updates under the hood, but the front end changes were kept to a minimum. Our goal was to ensure that power users could find things easily, but the interface would not require extensive training for simple tasks and workflows. Our IPAM updates are focusing on three key areas – visualization of important data, workflow automation and integration. Our visualizations continue to mature and evolve – we see a reasonable path for enhancements to capacity planning and projections, and expect to get these out of the lab and into the code soon. On the workflow side, we heard feedback that while users had plenty of power for complex tasks, there were limited ways to reduce the number of clicks for a given provisioning task that didn't involve automation or our API. We then rolled out some key updates to address this – namely Smart Suggestions and Smart Templates. Our Suggestions attempt to give you some ideas of blocks to use for an assignment if your initial query doesn't match anything. In theory, this gives you flexibility if you aren't sure on the metadata filters, but does not require everything perfect to get immediate results. Our Smart Templates had the same idea, but presented slightly differently. When provisioning a Resource, IP addresses are typically tied to larger processes. The result is that these complex assignment tasks could have errors introduced by requiring multiple steps. Smart Templates rectifies this by allowing administrators to create a template that will pre-populate a multi-step provisioning process for the user to then edit/amend and then submit. This helps reduce the back/forth in day to day provisioning tasks.
The ProVision Difference
What you gain in terms of DDI management with an integrated solution like ProVision are simplicity and consistency. The types of errors and mistakes that can be made with decentralized management of DNS, DHCP, and IPAM are simply less likely to occur when your multi-vendor/cloud DDI platforms are within ProVision. Enterprises and service providers have evolved into production networks, which are a natural fit for ProVision's unique approach to Resource Management and native multi-tenancy. 6connect has also integrated features related to management of overlapping or duplicate IP address ranges. On its own, legacy solutions typically require purchasing additional licenses or appliance subscriptions, but with 6connect ProVision, we assume you already deal with this and thus we include support for these production scenarios in our default licensing.
How Can We Help You?
At 6connect, we love to serve our customers through creative and powerful solutions. ProVision is a provisioning platform that solves the kinds of problems facing IT departments day after day. With so many different capabilities captured within this single platform, it's sure to be a useful upgrade to your operations. Please get in touch at your convenience for more information.