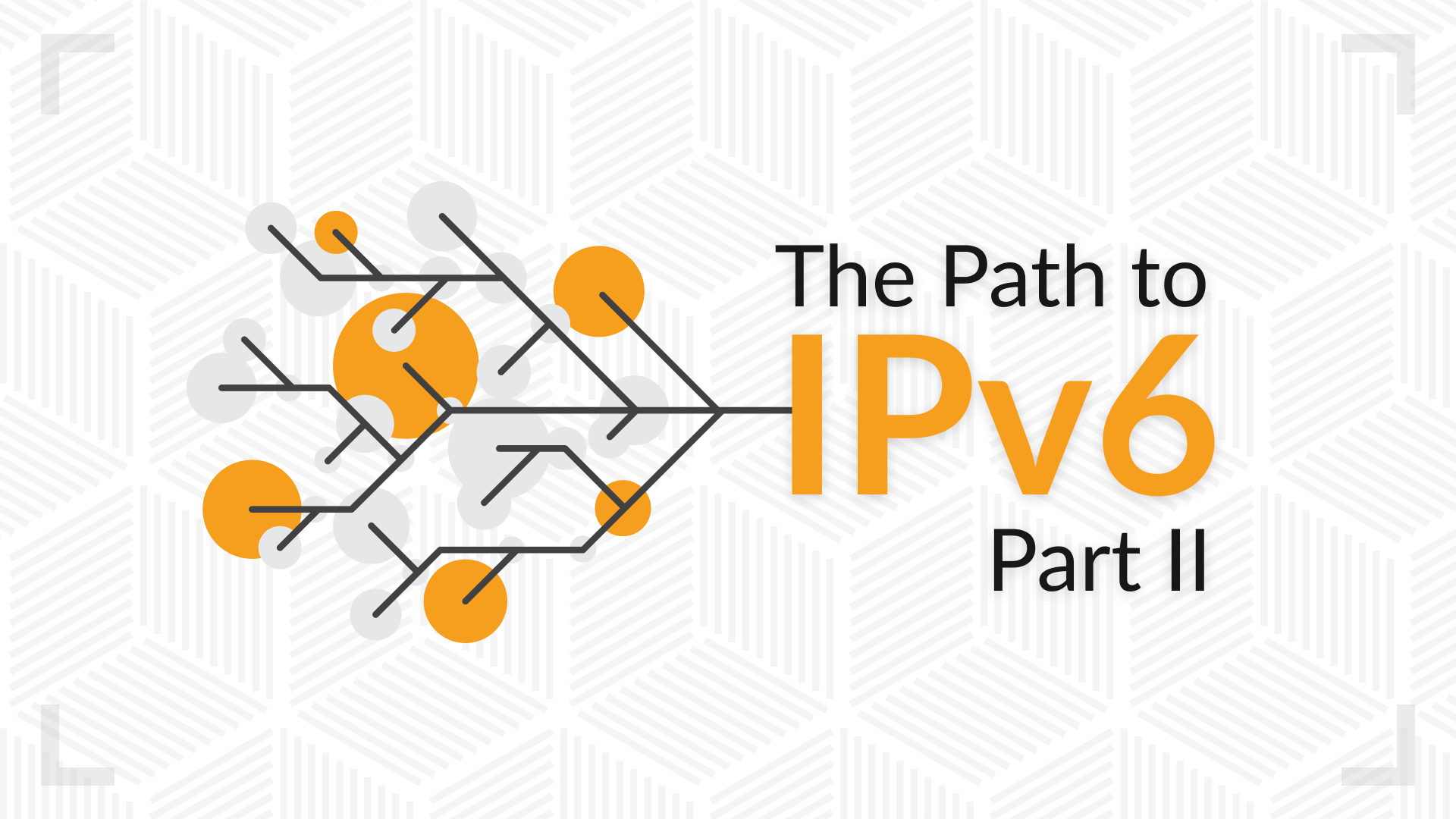 IPv6 is already here, but it is unevenly distributed. Many of the Internet devices around us can be configured to support the IPv6 protocol suite, but we are often still using legacy IPv4 systems. As you probably already know, the IPv4 address space is exhausted, and all Internet technical standards bodies have endorsed IPv6. Because of the address space exhaustion, and other important reasons, it is critical that we transition to IPv6. But, it often seems easier to put things off to tomorrow, thinking that IPv4 is good enough for now.
In Part 1 of The Path to IPv6, we gave you a presentation template for pitching the importance of starting your IPv6 transition to management.
Here in Part 2 of The Path to IPv6, we collaborated with Ed Horley, Co-founder and CEO of Hexabuild, and Jeremy Duncan, Managing Partner and IPv6 Architect for Tachyon Dynamics, to bring you a selection of up-to-date resources to guide the transition.
Key takeaways for the IPv6 transition
It is important to recognize up front that, for organizations of all sizes, there are multiple stakeholders who must be involved, and you will need continual buy-in from everyone to keep up the momentum. Keep in mind there are multiple pressures from your internet or managed service provider (ISP or MSP), possible future charges to maintain IPv4 addresses and requirements from some Software-as-a-Service (SaaS) offerings or Internet of Things (IoT) services to use IPv6.
The first step is to evaluate where you are. An IPv6 Assessment involves listing all products, software, and services being used in your IT environment and evaluating their level of IPv6 capability.  This list must include technical requirements for routing, and security, within your network. You will use this list to prioritize which part of your network to upgrade first.
As you procure new products or services, it's important to know which are not only certified as IPv6 ready but will fill your actual needs. You could carefully read every spec sheet of every device or service, and then still be in the dark as to how well certain critical features are supported.  What if a manufacturer leaves out an optional part of IPv6 which you need?
The IPv6 transition will take time because there is no magic wand to switch at the snap of your fingers. You will find some parts of your network can convert to IPv6 quickly. But, it is unavoidable that for every such service, several others will take time to develop the solution which solves your needs. Therefore, you will end up running a dual-stack IPv4/IPv6 network as you convert your systems.
There is potential for a Y2K-like problem in that software may have been written to accidentally contain IPv4-isms. The most common is presuming that an internet address is a 32-bit integer represented as 4 octets, such as 192.168.1.1. IPv6 addresses are 128-bit integers, with several possible representations. The real cure is to not store IP addresses but to store domain names or service names. Using hard-coded IP addresses makes for brittle applications.
IPv6 transition resources
The following is a list of up-to-date recommendations that can help guide your IPv6 transition
Bonus:
IPv6 in the United States' federal government and Department of Defense with Jeremy Duncan: IPv6 Buzz 038: IPv6 In The Federal Government

In this week's episode Ed, Scott and Tom discuss IPv6 in the United States' federal government and Department of Defense with Jeremy Duncan. As a founder and leading partner of the consultancy Tachyon Dynamics, Jeremy is an IPv6 expert with nearly 15 years of working with the protocol in the federal and DoD space (including while serving in the Marine Corps). He's also a participant with the North American IPv6 Task Force and has delivered talks at the NAv6TF summit.

Topics discussed include:

How the US federal government views IPv6 adoption and how the DoD responded in deploying IPv6
Future adoption and use of IPv6 for the DoD (as well as for civilian enterprises that work with the DoD)
How the DoD has been able to innovate using IPv6
What the federal government needs to do to continue promoting IPv6 adoption both internally and externally

Global IPv6 Adoption Strategy with Pete Sclafani: IPv6 Buzz 045: Fine-Tuning IPv6 Adoption Strategies For Service Providers And Enterprises

In this week's episode Ed and Tom discuss global IPv6 adoption strategy with Pete Sclafani of 6connect, a global network automation platform for service providers and enterprises. As COO and co-founder of 6connect, Pete has been helping some of the largest service providers in the world manage IPv6.

Topics discussed include:

Why a significant percentage of IT operators have such fear and loathing of IPv6–and how to change it
Different motivations between service providers and enterprises to adopt IPv6
How IPv6 impacts business processes as much as technical processes
Testing vendor claims of IPv6 support and overall IT strategy
Risks and benefits of IPv6 as a greenfield network design opportunity
Communicating the importance of IPv6 to business leaders
As always, we're here to help! Please feel free to contact us at any time with any questions or feedback. We are going to revisit this list of resources on a regular basis, so keep the ideas coming. Feel free to reach out to us on Twitter, Facebook, or LinkedIn.