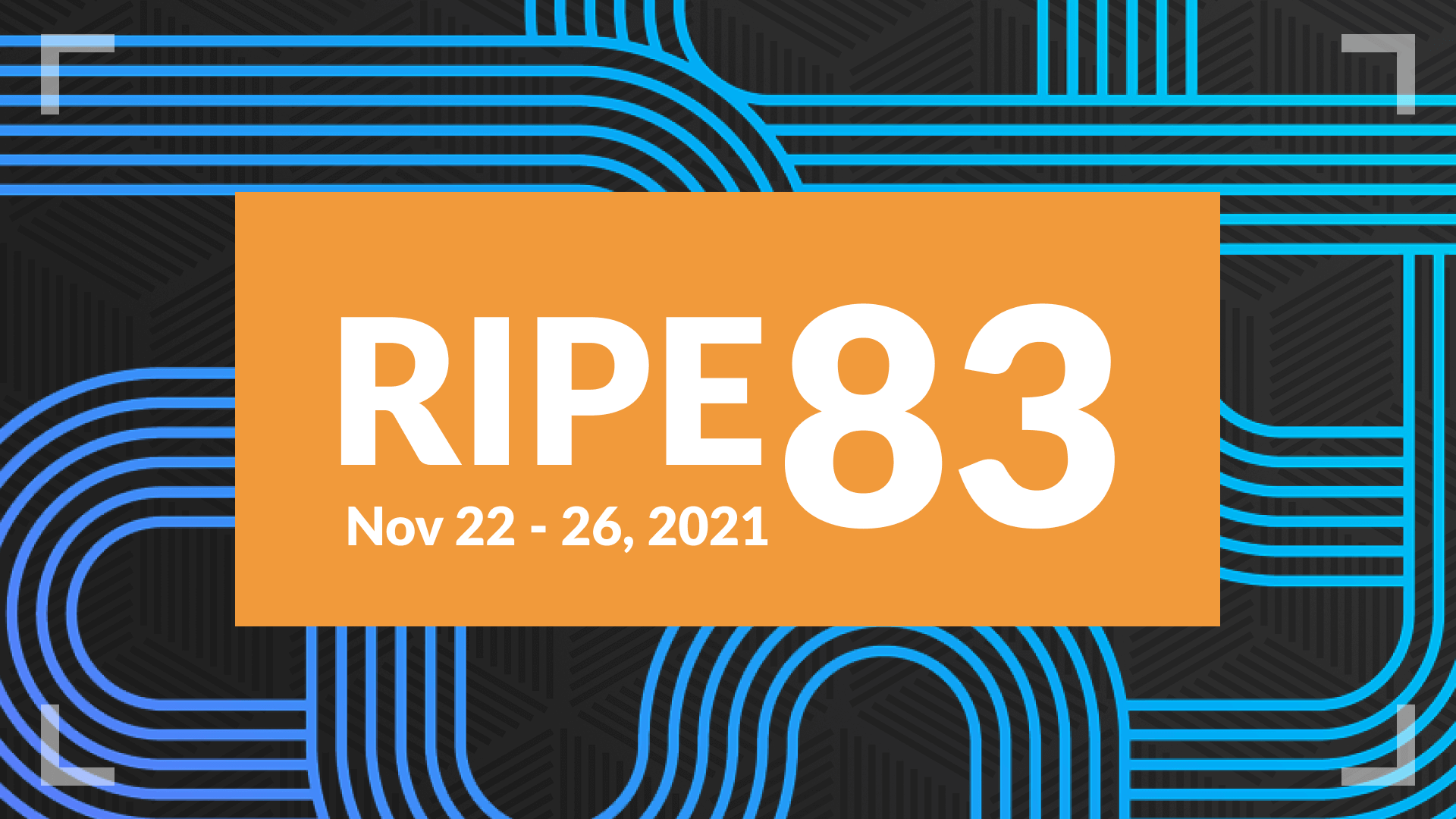 The RIPE 83 conference was a five-day virtual event that took place on November 22 – 26, 2021. The event gathered 1,126 Internet Service Providers (ISPs), network operators and other interested parties from 84 countries and provided a space to discuss issues of interest to the Internet community.
Day One
The event kicked off with a warm welcome from RIPE Chair, Mirjam Kühne, where she announced that the RIPE Database Requirements Task Force had published its final report.
Giovane Moura gave a presentation on responsible disclosure of bugs followed by an overview by Alexandre Ferrieux on troubleshooting methodology developed for QUIC.
The morning keynotes were followed by a day packed full of plenary sessions. Dr. Corinne Cath presented her Ph.D. research on the EITF's culture in Internet governance, Sheikh MD Seum shared his work on providing affordable Internet in Bangladesh and Michael Oghia championed for better sustainability practices in the ICT industry. Then Clemens Mosig presented a compelling joint research project that questioned whether there was a need for new BGP Route Flap Dampening configurations.
Andra Lutu provided insights from an analysis on operating an IP Exchange Provider including signaling data sets, traffic patterns and international mobility patterns. Last up was Randy Bush who discussed the downsides of dropping Invalids when running BGP Route Origin Validation. Randy wrapped up his presentation by offering three solutions to this problem. One solution he provided was to keep a full Adj-RIB-In, but that can be resource-intensive on old hardware. You can find the rest of his solutions here.
Day Two
The second day of RIPE 83 was lively with 1,085 participants rolling up their sleeves during the RIPE Working Group sessions.
Pavlos Sermpezis led the Routing Working Group and presented DataLabs' research estimating the impact of an ongoing routing hijack. He discussed best practices for measuring a hijack and mentioned some of the problems with public Internet measurements. Martin Hutchinson, Senior Software Engineer at Google, explained certificate transparency and shared a framework that community members can use to design similar systems.
At the IoT Working Group session, Elsa Turcios Rodriguez presented on a research collaboration with an ISP that looked at user compliance and remediation after IoT malware notifications. Three groups were analyzed: consumers in a walled garden, users notified by email and a control group. Elsa noted that 92% of the issues were cleaned up in the walled garden group, versus 82% in the email group. And the probability of remediation was reduced by 54% if the user's device was infected with multiple sources of malware competing with each other for the same digital resources.
Day Three
Day three brought more engaging Working Group sessions.
The Anti-Abuse Working Group was kicked off by Gerardo Viviers who discussed RIPE NCC's efforts to implement training activities relating to handling abuse. Then, Denis Walker presented on the purpose of the RIPE Database with a focus on how abuse is handled now and in the future. The session concluded with a presentation from Tianxiang Dai where he looked at situations of abuse in which various types of Internet resources are taken over and the best strategies for mitigating these risks. This topic in particular inspired a lively discussion.
The Database Working Group began with an overview from Edward Shryane about the new features implemented in the RIPE Database since RIPE 82 and the upcoming features. He updated everyone on the cloud migration project and reported on the WHOIS outages along with the data cleanups that were performed. Next, Rehan Syed presented a retrospective of the RIPE Database User Interfaces (UI) from 2014 to now. Rehan then asked for volunteers to participate in usability testing and to share feedback on the UI of all RIPE NCC services.
Shane Kerr, a member of the RIPE Database Requirements Task Force, discussed the work that has been done by the task force and featured the main points of the task force's final report. Denis Walker closed out the session by following up on a video he had previously shared to ask for input from the community about the purposes of the RIPE Database.
Day Four
The fourth day of RIPE 83 began with the Community Plenary and continued with a day of Working Group (WG) sessions.
Mirjam Kuhne provided updates from the RIPE Chair team, including a goal to make the RIPE community more visible and accessible to newcomers and the steps they had taken to improve. Eileen Gallagher and Casten Schiefner announced that nominations for the Rob Blokzilj Award were now open and that the winner will be announced at RIPE 84 (hopefully at a physical meeting in Berlin)!
Hisham Ibrahim presented his top three priorities in his new role as RIPE NCC Chief Community Officer. Those priorities include: institutionalize understanding of the local community needs in our service region, restructure teams and the RIPE NCC's presence to make a bigger impact and build ecosystems around the RIPE NCC's data services.
A brief NRO update was provided by Hans Petter Holen on the valuable vehicle for inter-RIR cooperation. He noted that everything is stable and highlighted a number of NRO projects including a review of its MoU, an NRO Strategic Review and a review of the ASO.
Day Five
The closing plenary was presented by IPE Chair Mirjam Kühne. This included some meeting statistics and changes in positions within the RIPE community. She also thanked outgoing and incoming chairs of the RIPE NCC staff for their hard work.
In Summary
Although RIPE 83 was virtual, the event had great energy and attendance and it was an excellent development and networking experience. The next event is scheduled for May 16 – 20, 2022 and the team is holding hope that it will be in person in Berlin, Germany!
If you missed the conference and want more in depth information on the presentations, recordings are available online.
Here are a few fun highlights from the #RIPE83 Twitter stream:
Cool graph about the number of unique IPs by #RPKI RP software (active). By @TiesdeKock #RIPE83 pic.twitter.com/dqaDLWhRyH

— Flavio Luciani (@flavioluciani81) November 24, 2021
#NewProfilePic specifically for the #IPv6 working group session of the #RIPE83 meeting 🙂 pic.twitter.com/9ph3uJYENM

— Milad Afshari (@miladafshari89) November 25, 2021
The virtual #RIPE83 meeting, with regards to a "remote" experience, is ahead of the pack. by far. Thanks to everyone involved!

— Ruben van Staveren 😷🏠 💉 💉#teammoderna (@rvstaveren) November 26, 2021