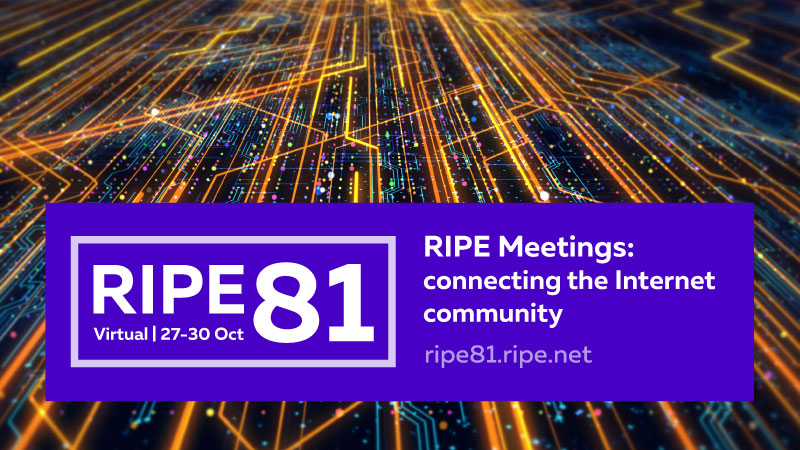 For those of you who haven't yet been, the RIPE conference, normally an in-person event, was a three-day virtual event where Internet Service Providers (ISPs), network operators, and other interested folks gathered to discuss key issues of interest to the Internet community.
One of the coolest features by far at the conference was the Spatial chat, which was a clever way for folks to network virtually. The meeting platform was next level, enabling us to chat and interact more meaningfully – which is a tall order for a conference that has historically been in-person.
Kudos to @ripemeeting for doing the #spatialchat, this is so cool!#RIPE81 ? pic.twitter.com/7pGyORqrd2

— 6connect (@6connect) October 28, 2020
Some of the highlights were definitely the Halloween costume contest. It's safe to say that all of the attendees enjoyed this contest. Who doesn't love virtual dinner with a vampire, werewolf, or a comically large sombrero?
Here's mine… #RIPE81 #costumechallenge #RIPEDinner @ripemeeting
I definitely qualify for the "longest" hat. pic.twitter.com/VQ41LTjmE3

— André Melancia (@AndyPT) October 29, 2020
The RIPE Atlas Software Probes Deployathon was another key highlight of this year's conference. After all, Deploying software is the most fun when it happens together. This year the deployathon was virtual, and all was smooth sailing thanks to the guidance from volunteer mentors. The goal was also to celebrate 10 years of RIPE Atlas by adding 10×10 software probes over 10 hours!
We were also happy to see RIPE chair @MirjamKuhne at newcomer's introduction, a blast from the past via the excellent spatial chat!
RIPE chair @MirjamKuhne at newcomer's introduction, a blast from the past ? #RIPE81 pic.twitter.com/Su5gCDoNhR

— SaltAail (@Saltaail) October 27, 2020
If you missed this year's conference, not to worry – the next RIPE conference is #RIPE82, on May 17-21, 2021. Also, you can visit the #RIPE81 archives.
We would like to give props to the organizers and moderators – shifting the conference online was a big change. It was really nice to see our fellow attendees making the most of the change and how new tools and platforms were helping smoothly enable everyone's interactions online. While we definitely missed the in-person component, having a virtual conference allowed our connections to stay fresh and we are looking forward to the next meeting in May.