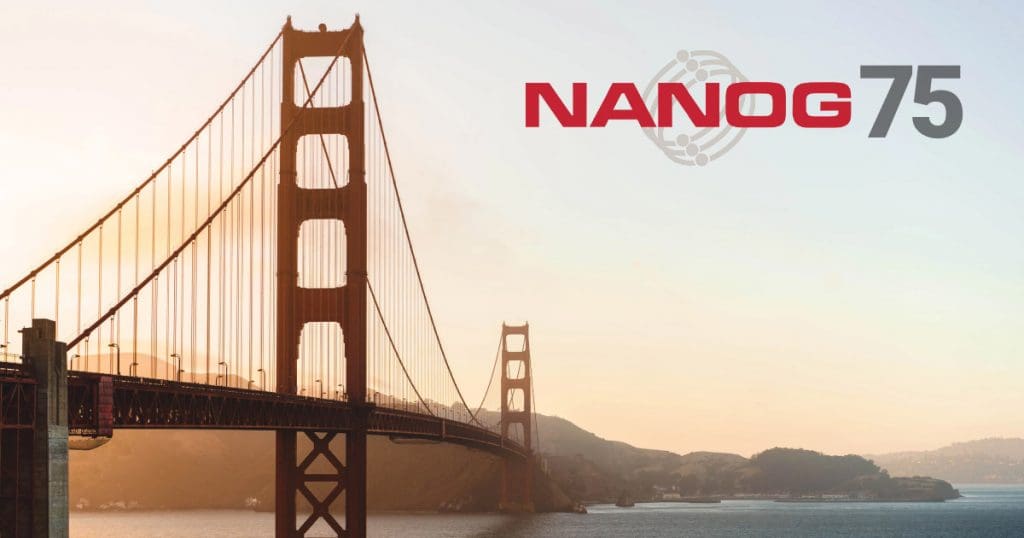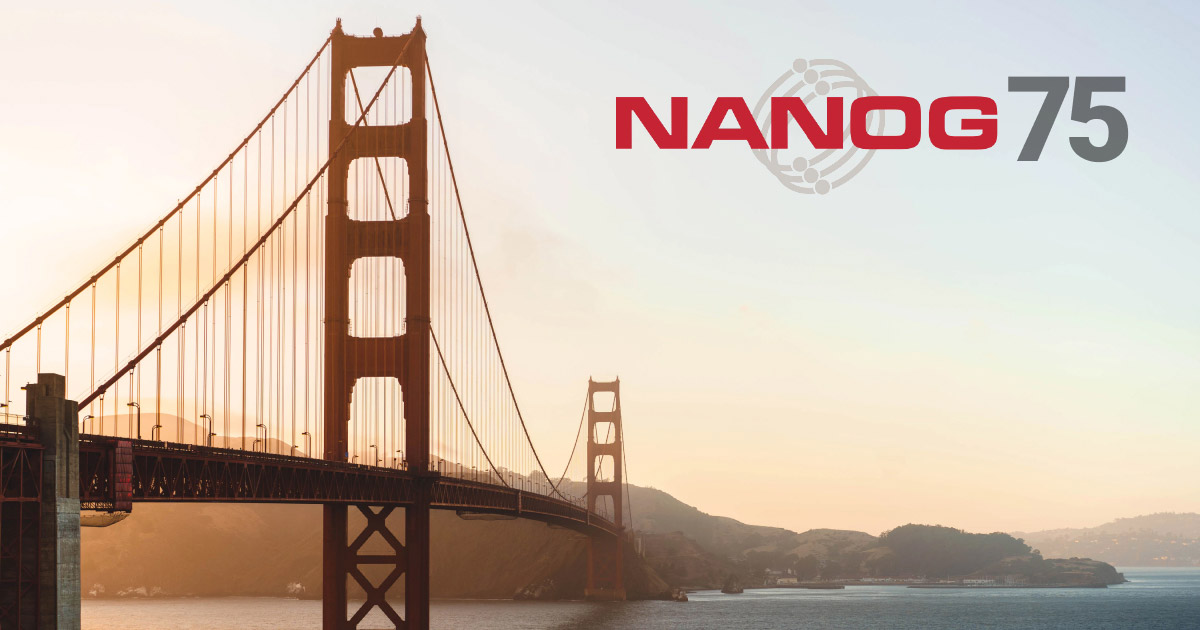 From February 17-20, 2019, San Francisco hosted the 75th North American Network Operators' Group (NANOG) conference for network professionals. This long-running event brings together industry veterans, innovators, and entrepreneurs from around the world to speak on the latest in internet security, IPv6 implementation, and network scaling for enterprise.
Conference kick-off: Hackathon and NANOG new website
The 4-day conference kicked off as usual with a hackathon sponsored by Cisco and Tesuto. Participants teamed up to develop strategies around network operations such as device provision, network scaling, and OpenConfig with assistance from volunteer experts. The top three teams would go on to present their projects on the final day of the conference at the Hackathon Recap.
On Monday the 18th, the event kicked into high gear with the opening keynote led by NANOG chairman L Sean Kennedy, who spoke about giving back to the community and why he joined NANOG. Kennedy was joined by NANOG Executive Director, Edward McNair, who showed off the upcoming new website and gave updates on planned improvements for NANOG. Tina Morris from Amazon Web Services followed up with community guidelines and expected behavior for members as the North American Network Operators' Group grows.
Conference Highlights
The conference hosted over 30 talks ranging from the latest in network management, internet routing security, changes for DNS providers, and technology trends to look out for. Here are a few talks that caught our eye:
Overcoming Challenges at the Oregon Country Fair – The Chief Network Architect for Impulse Advanced Communications, Jay Hennigan shares his experience with technical communications challenges for the Oregon Country Fair. As he puts it, the country fair isn't your typical state fair. With over 900 artisans and 90 food vendors who service 40,000 visitors — as well as limited cell coverage and grid power across the festival grounds — Hennigan certainly had to think outside of the box.
DNS Flag Day and Beyond — How Will It Affect You? – Eddy Winstead from Internet Systems Consortium brings companies up to speed on changes to DNS software and ISP providers. He explains what will happen to businesses that are non-compliant and gives insight into how DNS Flag Day will affect internet users.
Better Routing Security through Concerted Action – Andrei Robachevsky from the Internet Society looks at current internet safety and what's lacking in business practices today. Robachevsky provides attendees with steps to improve and create internet security norms for the betterment of society.
5G: An IP Engineer Perspective – Igor Giangrossi from Nokia gives an inside look into the new 5G, providing tips on how network operators can prepare for 5G rollout and how it can impact IP network requirements.
Re-Defining Core and Access: A New, Two-Tier Network Model – Chris Grundemann, director of strategy at Myriad360, calls into question the current physical network models and points out the inefficiencies in multi-tier hierarchical design. In his talk, Grundemann proposes a new approach to visualizing networks with a two-tier model.
For those that couldn't attend, check out Team NANOG on YouTube to watch some of the talks and join in on the conversation. We also highly encourage you to attend NANOG 76, taking place later this year in Washington, DC, from June 10-12.