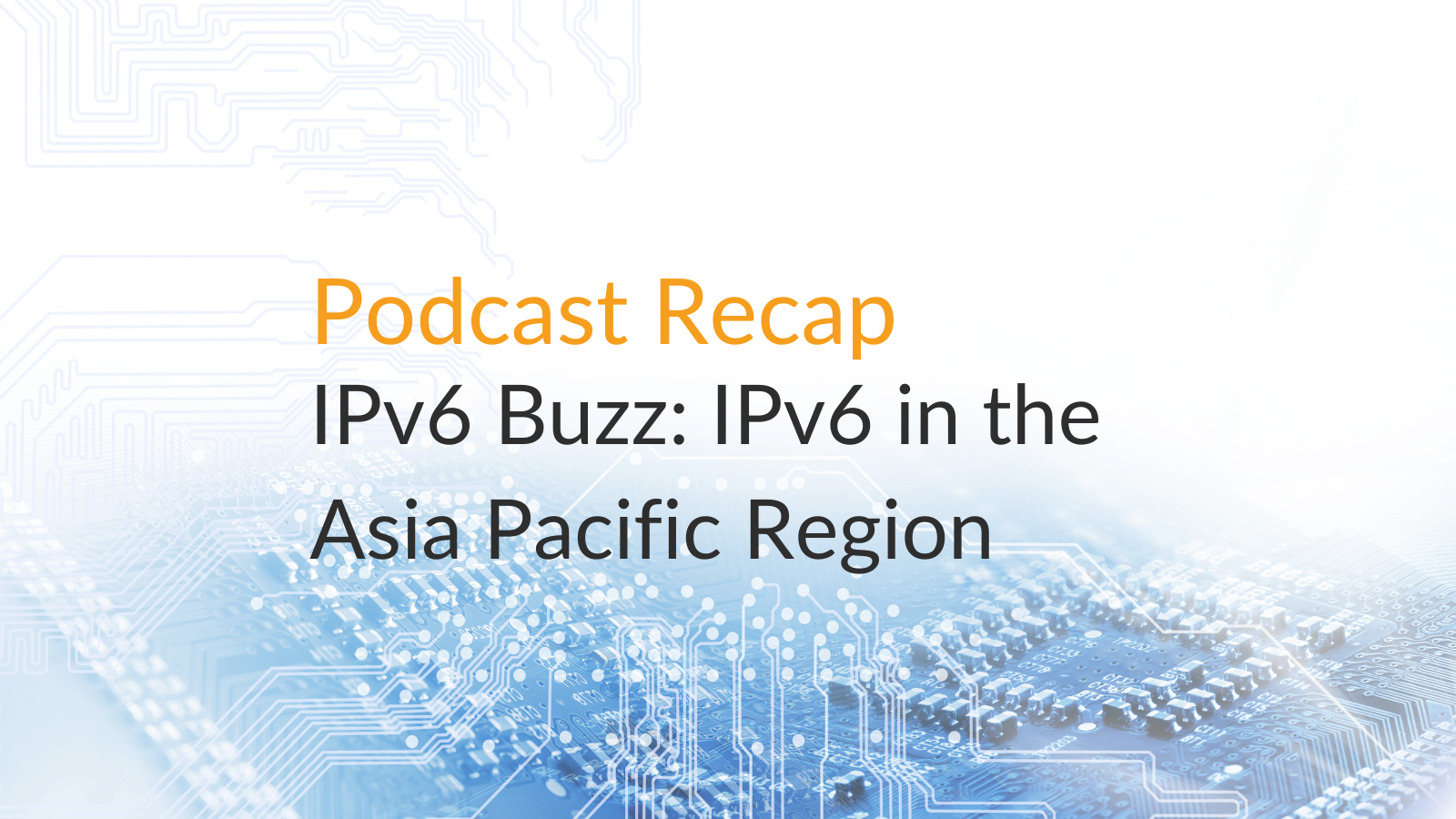 With the increasing global adoption of IPv6, does that present the Asia Pacific Region economies with an opportunity to create substantial value for the global network?
In this episode of IPv6 Buzz: IPv6 in the Asia Pacific Region, Ed Horley and Tom Coffeen are joined by special guest George Michaelson from APNIC (the Asia-Pacific Network Information Center) to explore that very question.
Other topics of discussion will be how geopolitical circumstances affect the deployment of IPv6 in various countries to cultural and demographic insights. Finally, our hosts discuss how IPv6 is used to its maximum advantage worldwide, emphasizing the Asia Pacific region.
Waking Up to IPv6 as a Dominant Force
Massive independent economies with growing populations, such as India, South Korea, and Indonesia, have been unable to ignore the growing force of mobile telephony and the internet. IPv4 addresses are increasingly scarce, so the urgency to deploy IPv6 has never been higher. Migrating to IPv6 would take approximately 4.2 billion IPv4 addresses–most of which are in use–to 340 trillion trillion trillion addresses and secure the future of the internet.
Economic Forces and Geopolitical Circumstances
The use of IPv6 technology has been constrained by several complicating factors in the APAC region, precisely the oversight of various independent agencies and their governing bodies.
Some restrictions have to do with the politics of envy – so much early adoption in the North American and European footprint created asymmetry in terms of access to resources. Economic forces and high populations informed the APAC region's developments. The need to jump in and have equity in that market is now a matter of catching up.
With so many players in the global game, it becomes essential to note which independent countries are doing what. It's possible to draw IPv6 adoption similarities from the inner workings of Latin America. Michealson explains how Mexico has its registry and substantial dominance of a single player in the ISP space. Chile is focused on academic, medical, and research network development. The dynamics between powers such as Mexico and Chile display the importance of knowing address policy in each independent economy.
There are approximately 1,000 autonomous systems in Indonesia. With so many stub ASes, it's another economy transitioning from interesting political outcomes. Indonesia has a preponderance of a single vendor relationship because they selected the cheapest known to work. Unfortunately, their solution, MicroTik, has been slow to fix bugs.
Fine-tuning and Testing Neighbor Discovery
Michaelson mentions how he finds discussions around fine-tuning ND fascinating; he describes it as " lurking in the background there's still this cavern between stateless order config and stateful DHCPv6 behavior," creating two tribes but one question. Does a developer auto-config, or do they get assigned auto-configuration data?
On the client side, larger enterprises are occasionally confused regarding why they don't have the operational choice to have DHCPv6 working on whatever device they would like, most commonly regarding Androids products.
There is a duality in the conversation relating the issue to Michaelson's perspective of the Asia Pacific region. First, he explains that they are the factory that makes the CPE that most of the world will use. Questions about early stack and low stack behavior go quickly to a small community of developers and coders writing the logic that goes into these systems. With that transitioning very quickly to a conversation between an ISP, a telco, and their back-end source of CPE and network infrastructure, the team will soon be talking to people targeting factories in Asia. It makes him question, "Do we actually test this stuff in local markets well enough to know how it works well?" IPv6 deployment in the Asian footprint was for a long time low, so it is likely this technology is tested in factory labs, but not in in-language, in-time zone ways to gauge how it performs.
The Asia Pacific region is undergoing a deep packet inspection (DPI) transition as it works toward deploying IPv6. With countries displaying interest in grabbing a piece of the IPv6 pie due to individual motivations, increased foreign travel, national strategic directions, and career development for its residents, it appears as though the potential for equity in this region is quite strong.
Enjoyed this podcast discussion? Check out our latest Podcast Summary-The Problem With IPv4 Thinking for more!