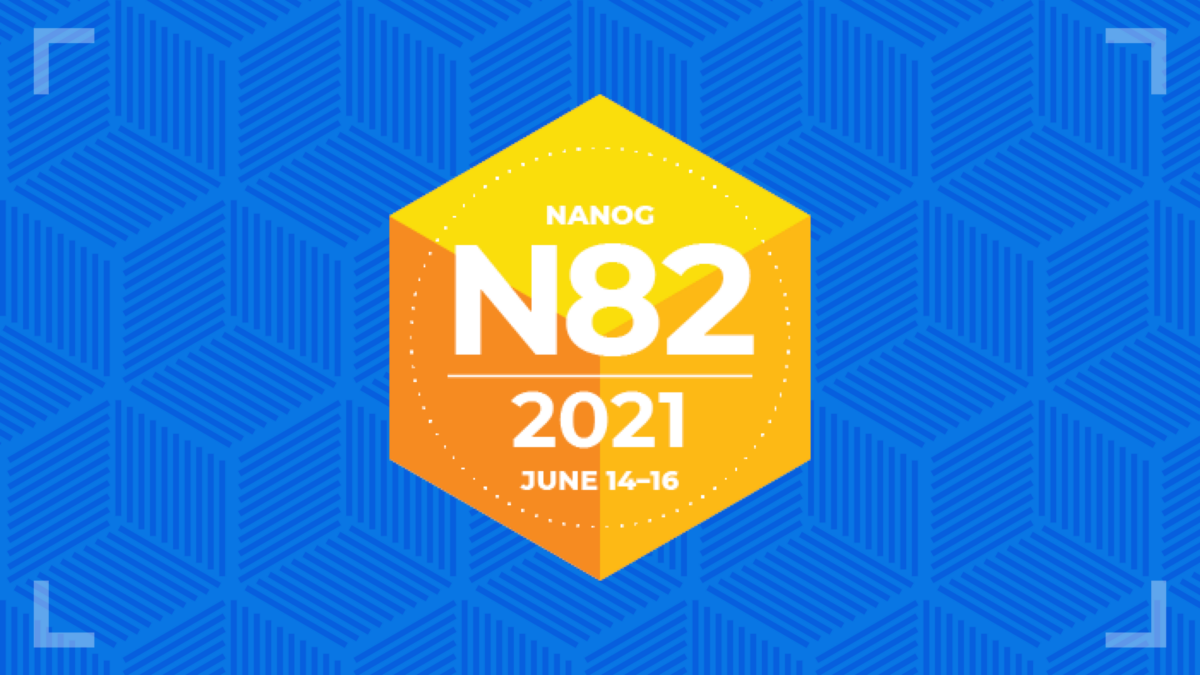 The NANOG community-wide conference returned to the virtual stage this month from June 14-16, 2021. The conference started off with a bang with a hackathon, followed by a three-day agenda packed with fascinating presentations, panels, talks, and networking sessions.
The event which gathered over 750 network engineers, developers, industry veterans, and entrepreneurs opened with a few welcoming remarks from Tina Morris, Senior Technical Business Developer at Amazon Web Services, and Cat Gurinsky, Network Engineer at Apple and former member of the NANOG Development Committee.
NANOG 82 Conference Highlights
NANOG 82 continued the meeting with a variety of presentations from industry leaders to be viewed from anywhere. Here are a few we liked:
IPv6: More than Meets the Eye – Nicholas (Nick) Russo, internationally recognized expert in IP/MPLS networking and design, delivered a presentation exploring the advantages of IPv6 outside of simply being larger. Attendees learned how IPv6 can offer solutions to difficulties that many businesses face and participated in a discussion about networking automation in relation to those IPv6-centric solutions.
Tenant Networking in Public Clouds: Do We Still Need Networking Engineers? – Ivan Pepelnjak, Cisco Press books author and network architect, highlighted the differences in public cloud networking vs traditional IP/Ethernet and the complexities of moving to public cloud infrastructure. In his presentation, he outlined the major differences among public cloud providers and how many of the concepts learned working with one provider are not transferable to other public cloud providers. He also provided attendees with some advice on how to wade through these new networking options.
Evolution of Network Automation at Roblox – Mayuresh Gaitonde, Networking Automation and Network Reliability Engineer, examined challenges faced by network automation teams with the automation stacks they currently have as not only the network grows and their needs increase. Giving a glimpse into the Network Automation stack at Roblox, he walked attendees through the evolution of the stack and the creative solutions that were introduced along the way.
Disaggregated routing gets real in Deutsche Telekom – Carsten Michel, senior expert NGN at Deutsche Telekom, and Hannes Gredler, CTO at RtBrick, Inc., discussed the benefits of network disaggregation for carrier networks and how Europe's largest telco took advantage by disaggregated its broadband network, enabling IP/MPLS software routing in its IP core. The speakers delved into the many considerations involved with networking disaggregation.
The Evolution of the Interplanetary Internet – Vinton G. Cerf, "father of the internet" and multi-award-winning VP and chief Internet evangelist for Google, delivered a keynote presentation beginning with heterogeneous networks and computers in 1977 and how it has evolved to the interplanetary internet now. He walked attendees through initial considerations, prototyping, refining and testing DTN.
We would also like to note that perhaps one of the most talked-about moments of the conference occurred during this captivating presentation, but actually had nothing to do with the presentation itself. The live Q&A was interrupted by a Russian spam call to Vinton G. Cerf where he answered the phone and seemingly told them to "scram" in Russian!
Overall, NANOG 82 delivered another amazing development and networking experience. We look forward to NANOG 83 happening in Minneapolis, MN in November of this year.
Here are a few fun highlights from the #NANOG82 Twitter stream:
@vgcerf telling a spam call to kick rocks in Russian during our Live Q + A! #nanog82 pic.twitter.com/RkHCD5uhKl

— NANOG (@nanog) June 15, 2021
Im "at" #NANOG82 #WEARENANOG from our #boston office. pic.twitter.com/rz5Njx9j8x

— Martin Hannigan ☀️ (@TheIcelandGuy) June 14, 2021
Presented at #NANOG82, Nokia Deepfield global #DDoS traffic analysis newly identified #DDoS threat potential over 10 Tbps – 4-5 times higher than the largest current attacks reported. Read more: https://t.co/Yzh7CzA1Fj#NetworkSecurity #BigData #IPnetworks #Deepfield pic.twitter.com/am9PoVw3Af

— Nokia for CSPs (@nokianetworks) June 14, 2021
It's day 2 of #NANOG82 and the Father of the Internet @vgcerf is going to be delivering his Keynote titled: The Evolution of the Interplanetary Internet. One not to be missed! https://t.co/INZE9XLbHa #LINX #LINXNoVA #Internet #Interconnection #Peering pic.twitter.com/fQV8ME9vDD

— London Internet Exchange (LINX) (@LINX_Network) June 15, 2021