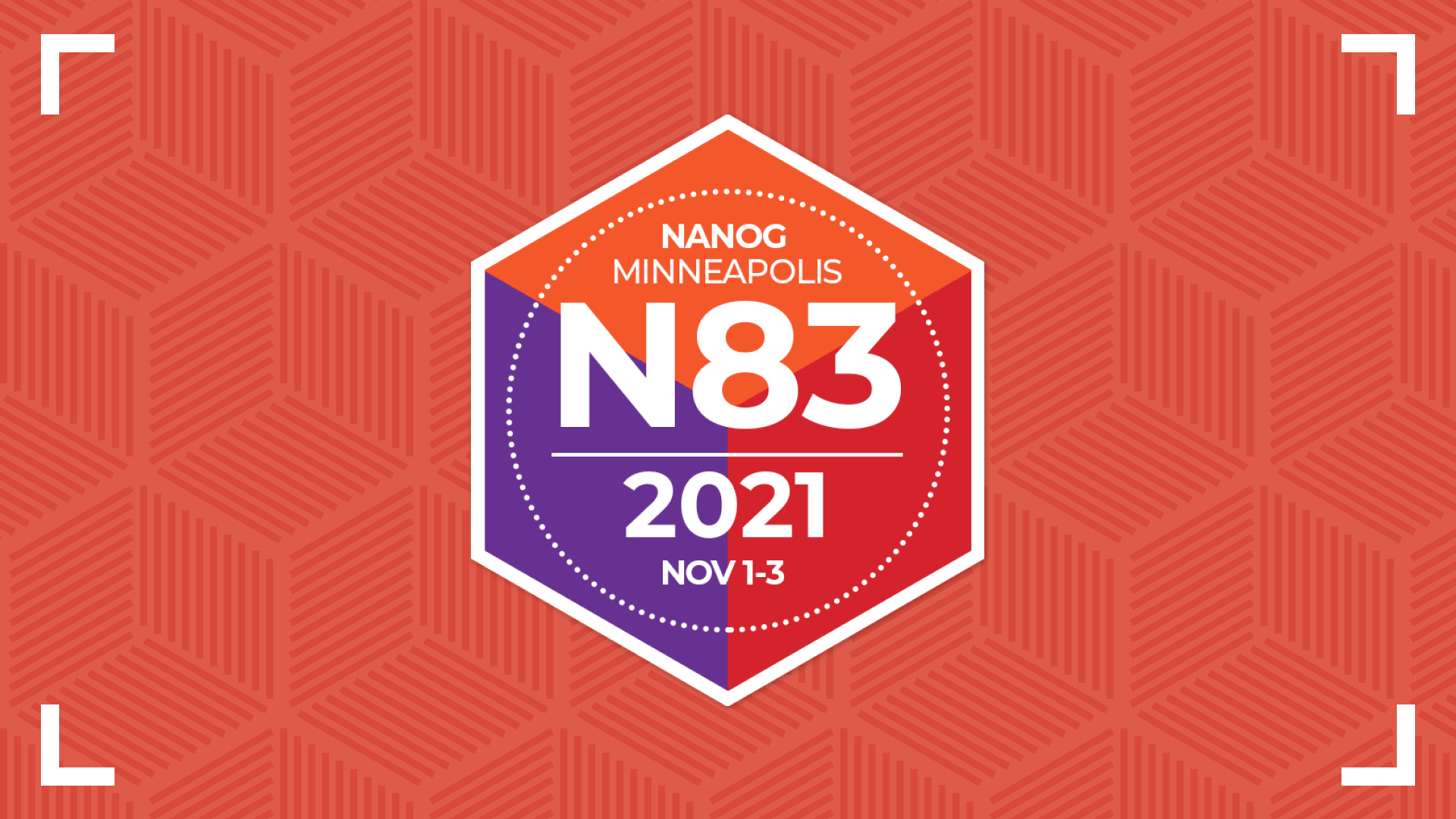 NANOG 83 returned this month with both in-person and virtual meetings on November 1-3. The conference kicked off in Minneapolis with a hackathon followed by three full days of conference sessions including presentations, panels, and networking sessions.
Opening remarks were given by Tina Morris, Senior Technical Business Developer at Amazon Web Services, Avi Freedman, Co-founder and CEO of Kentik, and Cat Gurinsky, Network Engineer at Apple and former member of the NANOG Development Committee.
NANOG 83 Conference Highlights
There were many fine sessions, and these are just a few which caught our attention.
Who Controls the Internet:  The keynote session was delivered by Bert Hubert, founder of the PowerDNS project and current member of the Netherlands government serving as a regulator over the Dutch intelligence agencies. The talk focused not on technical issues like who controls the core routers, but instead what happens when governments seek to control who can see what. The Internet wants to be free, but some governments want to limit what can be freely seen. The examples ranged from North Korea, which essentially has a completely private network that is completely invisible to outsiders, to the USA where we expect complete freedom to access any Internet service, but in practice, the government exerts a surprising amount of control.  But it's not just government control that is worrying, because the big technology companies (Google, Microsoft, Facebook, Twitter, Amazon, et al) have a worrying level of arbitrary control over critical parts of the Internet. They can control which sites show up in search results, are shared via social networking platforms, or even which sites are allowed to have hosting services. The decisions are made by anonymous tribunals staffed by employees of these companies. There is no court of appeals for their decisions, nor any public record.  Mr. Hubert has posted a transcript to his blog.
Courageous Women of NANOG: This session, led by Jezzibell Gilmore, Chief Commercial Officer of PacketFabric, highlighted the difficulty women have in entering a male-dominated industry. Of course, every female network engineer has the potential to be just as capable as their male counterparts. The presentation highlighted some women who have contributed much to the NANOG community. Following this session was lunch, during which the participants were asked to continue a conversation about this topic using some provided talking points.
Integrated Public Alert and Warning System: May Wu, a systems engineer with the IPAWS office explained that IPAWS is a government-owned system that sends emergency alerts of all kinds through television, radio, and cell phone networks. Because of the changing technology landscape, new channels for disseminating alerts must be developed. This presentation sought to get the attention of network operators to develop new ways to deliver emergency alert messages.
Should network operators hop onto the data plane: Max Resing, currently studying for a Master's degree in Computer Science at the University of Twente, shared the results of his recent research. So-called "scanners" are automatically looking for vulnerabilities in network resources. The main trick is to block IP addresses of known scanners, leading to the importance of developing good blocklists. The talk discussed deploying honeypots on cloud services around the world, as well as in corporate and home networks. These honeypots are used to collect lists of such IP addresses, and to analyze which tend to target what sort of resource.
IPv6 – the next 10 years: The second keynote, delivered by John Jason Brzozowski, Chief Technology Architect at MachineQ, discussed the current status and future of IPv6 adoption. World IPv6 Day (which took place in 2011), John Jason Brzozowski, gave both a retrospective look at the last 10 years of IPv6 adoption as well as predictions for the next 10 years. The keynote can be viewed here.
Operational Implications of IPv6 Packets with Extension Headers: Fernando Gont, Director of Information Security at EdgeUno, discussed how IPv6 extension headers (EHs) are used for a variety of purposes, including support for core functionality such as IPv6 fragmentation. But there are challenges in using EHs. There is evidence that IPv6 packets with EHs are dropped by some public internet deployments. The talk goes over operational impacts and attempts to analyze why this happens.
Improving the Reaction of Customer Edge Routers to IPv6 Renumbering Events: Fernando Gont also spoke about how sometimes the network configuration changes, causing some IPv6 prefixes to become invalid without reliably signaling the change. As a result, hosts attached to the network may continue using stale IPv6 prefixes. This problem was documented by the IETF in RFC8978 (published in March 2021). Gont discusses the upcoming RFC9096 on "Improving the Reaction of Customer Edge Routers to IPv6 Renumbering Events" which will give recommendations on how network operators deal with this issue.
Overall, NANOG 83 delivered another amazing conference with great speakers and networking. It was great to be back in person again! We look forward to NANOG 84 happening in Austin, Texas in February of next year.
Here are a few fun highlights from the #NANOG83 Twitter stream:
Learning so much from this keynote. Required listening especially from a threat intel perspective. Understanding the big picture through how we are all "connected" #NANOG83 @troutman thanks for sharing with me https://t.co/VaCgUavr1G

— 3ncr1pt3d 💉💉 (@3ncr1pt3d) November 2, 2021
RT netactuate and @datacenterdog: Day 2 of #NANOG pic.twitter.com/yu59n2KWEf kicking off with awesome content. It's great to be back in person! #nanog83 #netactuate

— NetActuate (@netactuate) November 2, 2021
.@bert_hu_bert gave a great talk yesterday at #NANOG83 on who controls the internet.

If you missed his presentation, this transcript will get you up to speed. 👇https://t.co/3DKUMp66me

— 6connect (@6connect) November 3, 2021
Some interesting data points in @jjmbcom's #NANOG83 keynote "IPv6 – The next 10 Years…"https://t.co/AaM9Ag3vEl [PDF] pic.twitter.com/81bkyXEV2K

— Enno Rey (@Enno_Insinuator) November 4, 2021