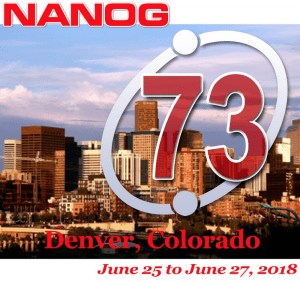 Name of Event: NANOG 73
Date of Event: June 24,2018
Location of Event: Denver, Colorado
Number of attendees: 1073
Sponsoring Organization(s): CoreSite
NANOG 73 Overview
The NANOG 73 Conference was buzzing on Sunday, June 24th. Juniper jumpstarted the morning with a fun hackathon, followed by a great list of sponsors and speakers present for an outstanding agenda.
First up on the platform was Najam Ahmad from Facebook. Najam shared a compelling viewpoint on the mind state and true future skills needed for network engineers. Before lunch, Netflix Vice President David Tempkin opened the floor for questions, as they introduced NANOG's new Executive Director Edward McNair. NANOG looks to have an exciting future with McNair, who has a focused goal of quality growth, and gaining a more diverse target group.
Among some of the many enticing presentations, T-Mobile's Stephan Lagerholm brought his knowledge to the conference with a background on T-Mobile's inspiration to switch from IPv4 dependency to IPv6. He urged conference goers to deploy IPv6 while educating the crowd on how to make it happen even on large production networks..
If you have an interest in network protocol, you will find SNMP has died in Google's presentation. The deployment and efficiency of Streaming Telemetry was broken down by Google's Network Architecture team member Rob Shakir, and Software Engineer Carl Lebsack. They discussed the lack of reliability in the SNMP system, and the more efficient Streaming Telemetry as a replacement model that has already been operating.
For those of you who are not in tune with NANOG and their history, it is beneficial to check out the Betty Burke's session. Betty shared her background and work with NANOG. You can also view this discussion along with the rest of the presentations here:NANOG 73 agenda & Presentations. This conference should entice future conference attendees that may have missed out on this one. If you haven't attended a NANOG conference before, there are upcoming conferences and great Network and Engineering scholarship information for future NANOG attendees.