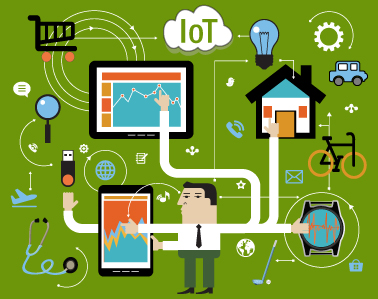 This week we had the opportunity to attend the Internet of Things Developers Conference, better known as IoT DevCon. The conference was held in Santa Clara, the heart of Silicon Valley. The conference was focused specifically to the IoT product developer, and was focused on in-depth technical analysis, tutorials, business strategies, and product updates.
One session which was particularly interesting was called No IoT Without SoT – the Security of Things. This was led by Maarten Bron, Director of Innovations at Underwriters Laboratories. He explained that in today's world, there is no safety without security. As the connected society continues to expand, we are rapidly approaching the practical limits of classical IT security certification. His presentation gave an overview of IoT security today – as well as a glimpse of where crowd-sourced testing and public ledger technology could bring the SoT of tomorrow.
Security should not be an afterthought in the product lifecycle. #IoTDevCon

— 6connect (@6connect) May 25, 2016
You may be surprised to learn that power usage predicts how a chip could leak information it shouldn't. #IoTDevCon pic.twitter.com/5JDj3pTVke

— 6connect (@6connect) May 25, 2016
Another panel highlight was Scalable Secure Identity for IoT, presented by Rod Schultz, VP of Product at Rubicon Labs. One of the biggest challenges with IoT is the provisioning of identity to millions of devices that will soon enter the world. If done correctly, this requires secure digital uniqueness coupled with a system or service that validates that uniqueness. Unlike the biological world where uniqueness simply comes for 'free' (different DNA, different fingerprint), the digital world is very unusual and has unsolved challenges. Rod discussed the problem of creating, managing, and validating uniqueness at scale. IoT is not the first time identity at scale has been required.
There are many different aspects of identity, they fall into 3 categories: what you know, what you do and what you have #IoTDevCon

— annebot (@annebot) May 25, 2016
"When identity is trusted, powerful services can be built on top of it." -Rod Schultz of Rubicon Labs (@0knowledgekeys) #IoT #IoTDevCon

— mobilefomo (@mobilefomo) May 25, 2016
Here are some additional highlights.
The same 50 year old security standard #UL 437 criteria for keys applies to #IoT today #IoTDevCon pic.twitter.com/JxrEejL9nY

— Farshad Samimi (@marshgreene) May 25, 2016
The @IoT is not about the Things, it's about how you interact with those Things! #IoTDevCon

— Jenna OBrien (@jenna_ob) May 25, 2016
Panel says–Privacy is a tough concern. Main problem is on the back end. Not just #IoT problem. #iotdevcon

— Martell Comm (@MartellComm) May 26, 2016
We enjoyed IoT DevCon and look forward to the next event!. If you're attending DevOps Day next month, don't miss the presentation of our COO and co-founder, Pete Sclafani.