ProVision packs quite a bit of functionality in the application itself. The API has continued to grow and we see an opportunity to build on that with the "Portable Gadget" concept we rolled out in 5.2 in early 2016.
The idea was create some Javascript Gadgets that used ProVision's own API, but that could provide functionality outside of ProVision completely.
In the use case that we built for a customer, there was a legacy application that could benefit from real-time ProVision searching. So we built a portable IPAM Search gadget that could be added to their legacy web application and skinned in their preferred manner.

But then we decided to have some fun. Our Logging page has been long overdue for a refresh, so why not do it in the Portable Gadget format, which will be useful in updating ProVision, but can also be parked pretty much anywhere. Since it communicates natively over the ProVision API, if you want to bring a Log page of ProVision data into your application – go for it!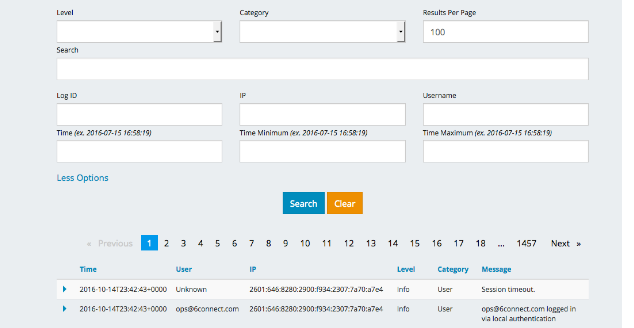 The end result of this feature was that feedback was positive enough that we are going to be shifting our ProVision gadgets to this format. This way 6connect can provide production quality code samples, and administrators can use that code in different ways as they wish, or just leave them in the ProVision GUI.
A big thank you for all of our customers that provided feedback, we hope this update in ProVision 5.3 gives you more ideas. As always – if you need more information or have ideas for other Portable Gadgets – let us know at info@6connect.com.