As a software company, we hear the chants of DevOps. As an infrastructure software company, we see the realities of internet infrastructure today and see an opportunity.
6connect has always been about provisioning and automation. Over the last seven years we have worked with customers to refine our platform, and as 2016 comes to a close, you will be seeing some big steps now that our ProVision framework is in place.
Our goal? To bring technical agility to infrastructure and Make Your Network Infrastructure Sparkle.
How do we do it? By providing API driven tools that are simple to deploy and easy to use.
We will be publishing more insights on our approach, and even highlighting some of our features/functionality that you may not have seen.
This year is bringing out a little thing called "Portables" along with a slew of Connectors (Infoblox, and Cisco Prime Network Registrar to name a few). The idea is to make integration with these disparate technologies even easier and really help simplify provisioning workflows – big or small.
To our customers – thank you for your support over the years, your feedback has been crucial and we appreciate it every day. These initiatives we are working on are directly influenced by our experiences with you and hopefully they continue to make your DevOps lives easier.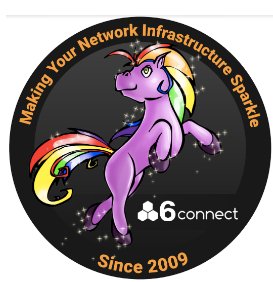 If you'd like one of our stickers, DM us your name, DevOps codename and mailing address on Twitter @6connect or you can go old school and email us at info@6connect.com.