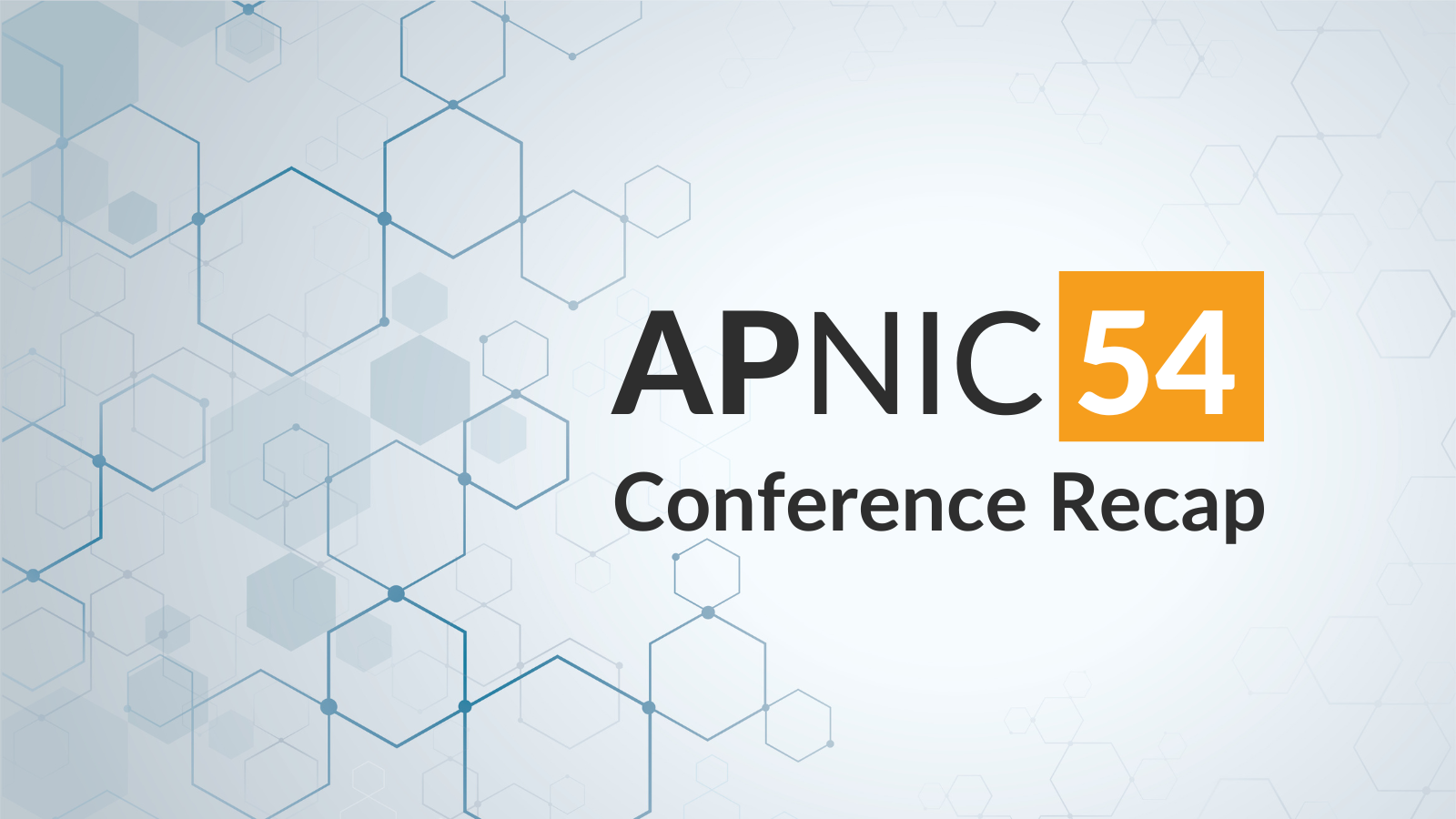 The APNIC 54 Conference was held in Singapore from September 13th-15th, 2022. This conference brought together incredible speakers and the technical community to share ideas and experiences both in-person as well as virtually. If you weren't able to attend, we've got you covered, below are some key highlights from the event.
The APNIC Opening Ceremony and Keynotes began with a warm welcome from Singapore, and excitement filled the air for the first hybrid meeting with in-person and online attendees since 2020. We were excited to see APIrGF and APSIG join this year's conference. This collaboration brought together a vast multistakeholder family with energy that APSIG Chair Satish Babu described as synergy. APNIC EC Chair Gaurab Raj Upadhaya noted an increase of new participants this year and shared how "it is really wonderful to see this event bring together a whole bunch of technical communities across the region after two very challenging years." All while recognizing the internet's critical role in keeping everyone connected during this time. This welcoming also included a fantastic performance of a Singapore Lion Dance.
Next, we tuned in to APNIC IPv6 Deployment, which focused on encouraging all stakeholders, especially service providers, to deploy IPv6. Speaker Muzamer Mohd Azalan shared Telekom Malaysia's journey in deploying IPv6, the obstacles they faced, and how they overcame them. When asked for advice when considering IPv6 deployment, he shared a quote by Theodore Roosevelt, "Do what you can, with what you have, where you are," and encouraged everyone to start now. We also heard from speaker Ameya Deshpande who discussed the importance of IPv6 Performance and Diagnostic Metrics.
Lastly, we proudly heard from our VP of 6connect Labs, Jan Žorž, and Sander Steffann, who moderated World IPv6 2022 – The Story Behind the Events. The session began with remembering what happened during IPv6 World Day in 2011 and the IPv6 Launch in 2012. Chief Technical Officer at Global Cyber Alliance Leslie Daigle was highly involved in the process of these events as Chief Internet Technology Officer at the Internet Society. During this time, many network operators faced challenges with the increasing scarcity of IPv4 addresses. Having discussions about these challenges between multiple engineers and organizations helped them identify some key sticking points to move forward. "So in the end, the World IPv6 Day and World IPv6 Launch were actually engineering tests at scale." A significant concern for major content providers was running the risk of possibly losing customers who would no longer be able to connect. She later explained the immense work and many trouble tickets leading up to these dates. Ultimately, these events were significantly successful since they proved IPv6 could be turned on and work efficiently.
"It took all the major content providers joining together and doing it at the same time, jumping off the bridge together to make it happen."
On why this is still relevant today, Leslie explained that we are still seeing coping mechanisms being put in place to try to stall the inevitable, which is that there are not enough IPv4 addresses for the global internet. She then pointed out the key takeaway from these events- "collaboration across industry competitors is key, and it's possible, and it makes big things happen."
On the discussion surrounding challenges in promoting IPv6, Geoff Huston expressed that in the beginning, stuff didn't work very well, so trying to convince everyone that this technology was usable was difficult. "So proving the industry at large that IPv6 worked and didn't go into meltdown was a major achievement of the events."
The panel discussed ways to move IPv6 deployment further. Their thoughts for the future focused on enabling IPv6 by default. Yoshinobu Matsuzaki explained that we need to target the younger generation and provide an environment to educate them about IPv6. In agreement, John Jason Brzozowski shared, "If you give people the hands-on tools to learn, that will help breed success."
In closing, Sander Steffan shared his final thoughts on the events ten years ago. He reminded everyone of the important lesson that "competitors actually worked together to make the internet better,…that we as a community can do this."
Overall, this year's conference provided a fantastic opportunity to hear from some influential leaders and experts from the internet and networking community. We were thrilled to see everyone in person again, and we look forward to the next one. Check out this Twitter feed for some photos from the conference!