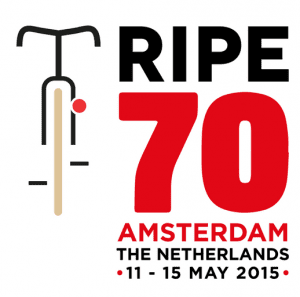 Aaron Hughes, CEO and CTO of 6connect, spoke at the RIPE 70 conference today in Amsterdam about IPv6 for Internet Service Providers. A RIPE Meeting is a five-day event where Internet service providers, network operators and other interested parties from around the world gather to participate in discussions about the policies and procedures used by the RIPE NCC to allocate Internet number resources. Attendees participate in the RIPE Working Group sessions to discuss current technical and policy issues. Participants are also encouraged to develop their network of peers in the Internet community and share experiences, latest developments and best common practices. RIPE 70 takes place from May 11-15, 2015.
Hughes' presentation, "IPv6 for Internet Service Providers: State / Lessons / Still to Come," received positive feedback at the conference and on Twitter.
Many interesting data points in Aaron Hughes' "#IPv6 for ISPs" talk at #RIPE70: https://t.co/tcjXRx7rSR [PDF]

— Enno Rey (@Enno_Insinuator) May 14, 2015
"IPv6 enabled / compatible" frequently means *broken* implementations or some *portion* of IPv6 support #RIPE70 https://t.co/gc20PejfdT

— Radek Zajic (@zajdee) May 14, 2015
Much of the agenda at RIPE 70 focuses on Database, MAT, DNS, and IPv6. In addition to Hughes' talk, additional IPv6-specific presentations include "IPv6: Who Is and Who Isn't?" by Geoff Huston, Chief Scientist at APNIC; "Use Cases for IPv6 Extension Headers – Let's Do Some Marketing" by Wilhelm Boeddinghaus, CEO of iubari GmbH and IPv6 Forum Certified Network Engineer (Gold); and "HTTP State Management (Cookie) in an IPv6 World: Apply Caution!" by Eric Vynke, co-chairman of the IPv6 Council in Belgium.
6connect will also be attending NANOG 64 in San Francisco, APNIC 40 in Jakarta, Indonesia, and NANOG 65 and ARIN 36 in Montreal, Quebec, Canada this year.