Last week marked the four year anniversary since the World IPv6 Launch on June 6, 2012. Since then, we have seen incredible progress in IPv6 deployment around the globe.
Countries including Finland, The Netherlands, Brazil, Malaysia, Canada, and the UK have all made substantial strides in IPv6 deployment showing the global nature of the effort. In fact, Finland planned their own "National IPv6 Launch Day" for June of 2015. It was patterned after 2012's World IPv6 Launch but targeted at service providers and content providers in Finland. The Finnish network DNA Oy started their deployment and saw results quickly.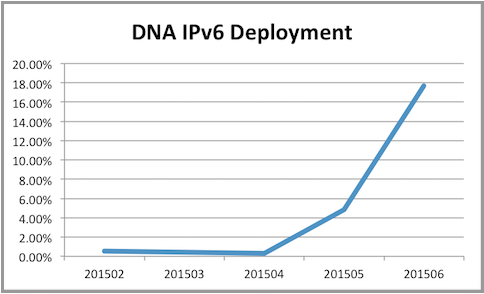 Additionally, the percentage of users accessing Google services over IPv6 exceeded 12% earlier this month – compared to less than 1% four years ago. Similarly the percentage of the Alexa Top 1000 websites that are reachable using IPv6 is now close to 20%.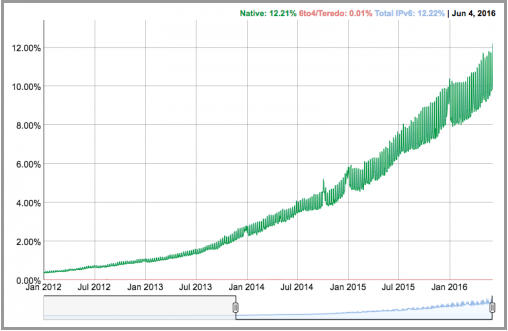 According to Erik Nygren, some of the greatest IPv6 deployments are now in cellular networks. If you have a recent Android phone on one of the top four US mobile networks (AT&T Wireless, Sprint, T-Mobile US, and Verizon Wireless), for example, then it's likely you are already using IPv6 rather than IPv4 when connecting to the Internet.

As of May 4th, requests to dual-stacked sites on Akamai from the top four US mobile networks used IPv6 around 60% of the time for Android and over 20% of the time for iPhones, with almost all of those IPv6-enabled US mobile iPhones being on dual-stacked Verizon Wireless. The above graph shows the total percentage of requests to dual-stacked sites using IPv6 from each of these networks across all devices.
According to Google, the countries with the highest IPv6 adoption rates are Belgium (42.15%), the United States (27.11%), Greece (23.81%), Germany (23.32%), and Portugal (21.99%).
Apple's new App Store IPv6-only support requirement is highly likely to accelerate IPv6-only deployments in both the other US networks, and may also unblock IPv6-only deployments in many mobile networks around the world.
We will continue to keep you updated on IPv6 deployments.