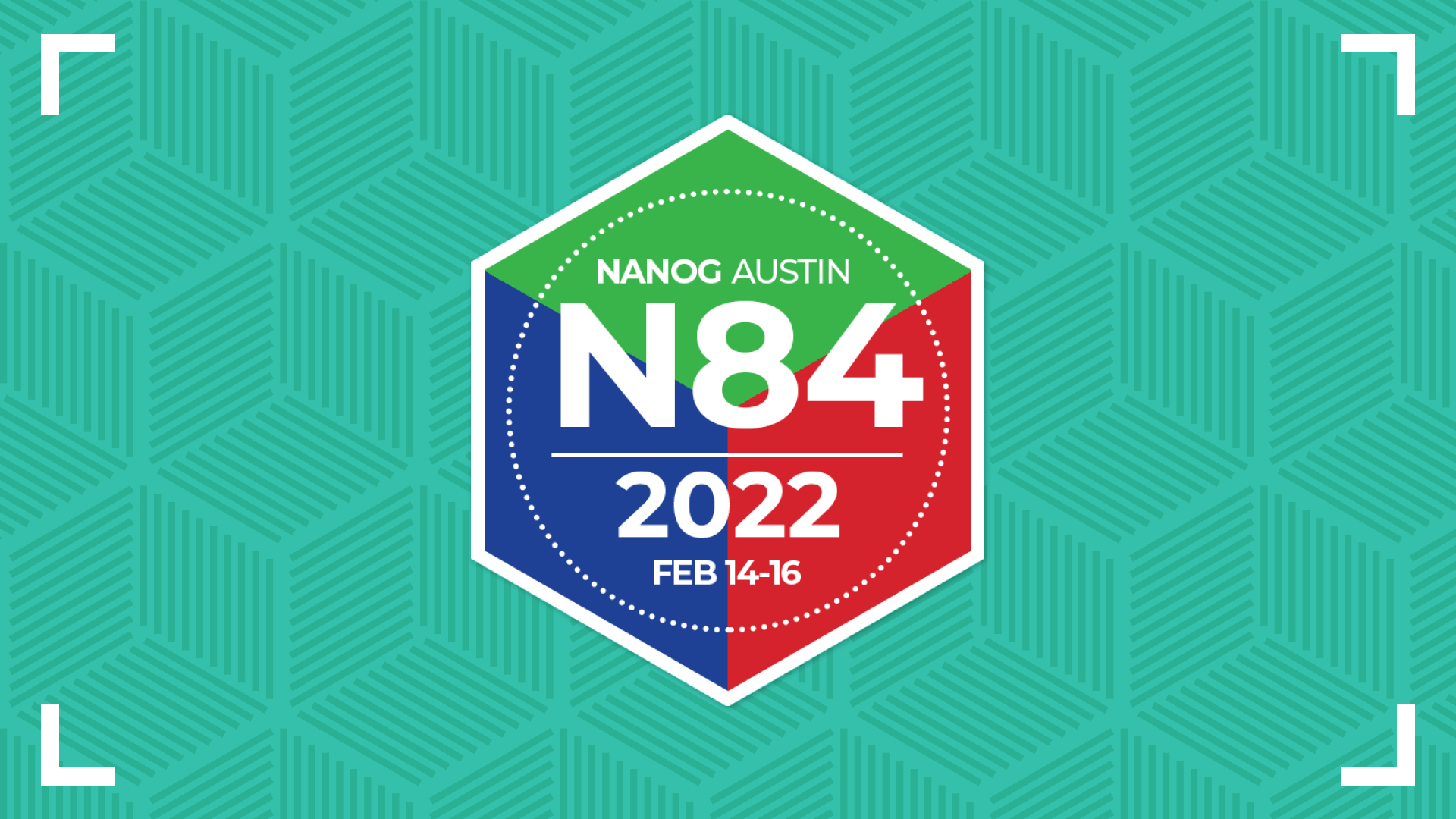 NANOG 84 kicked off this month on Valentine's Day, spreading the love by offering both in-person and virtual meetings from February 14 – 16. The conference was hosted in Austin, Texas this time around with a Sunday hackathon followed by three full days of conference sessions including presentations, panels, and networking sessions.
Conference-goers were greeted by Tina Morris, Senior Technical Business Developer at Amazon Web Services, and Cat Gurinsky, Network Engineer at Apple and former member of the NANOG Development Committee, who offered information and updates about NANOG and what could be expected in the coming days.
NANOG 84 Conference Highlights
There were many fascinating sessions — these are just a few which caught our attention.
Day One
Do the Wrong Thing! The first keynote of the conference was delivered by Radia Perlman who is best known for her invention of the spanning-tree protocol (STP). The talk described some technical decisions that the industry has made that although clearly "wrong", would end up causing technologies to be invented that are quite wonderful. She posed the question: Would the industry have thought to invent these if they hadn't been painted into a corner by previous decisions?
Radia discusses what might have happened if we had treated Ethernet like a link rather than a network and if Ethernet remained CSMA/CD.
She went on to explain NAT properties along with her unabashed hatred of them. Even so, Pearlman admitted the benefits of NAT as it enhances security and allows different types of addresses in different portions of the net.
Open Edge Network Telemetry Tools: This next session was presented by Avi Freedman, the co-founder and CEO of Kentik, a network observability company. He explained how as the diversity of networks and platforms that consume telemetry grows, there's an increasing need for an open set of tools to generate, replicate, enrich, copy, and transform network telemetry.
Avi presented a set of open agents called kappa, convis, and ktranslate (eBPF, PCAP, flow/SNMP) and a telemetry processing bus called ktranslate that can be used to provide a common platform for consuming and handling network telemetry.
Avi covered the tools themselves and common deployment architectures. He also discussed use cases for collecting from multiple types of network vantage points and sending to multiple open and commercial platforms that make use of network telemetry.
Avi explained that the vision for these tools includes an open edge network telemetry suite and the ability to work with any network type and architecture and any data platform, both open and commercial. This session closed out with an invitation to participate in ktranslate through GitHub and Knowledgebase.
Day Two
Inclusive Hiring in Tech: How to Write More Inclusive Job Descriptions: One of our favorite sessions from day two was delivered by Jill Bender, software engineer and member of the technical staff at Qumulo. Jill explained how the business case for establishing a diverse workforce grows more compelling each year, but that hiring managers often face challenges when it comes to the diversity of their talent pools for technical roles.
The aspect of hiring that most influences the makeup of your candidate pool is your job description. Many companies rely on old job descriptions and outdated wording for new postings and, without knowing it, their posting makes highly-qualified candidates feel excluded and discouraged from applying.
Jill went on to discuss the business case for why inclusive hiring matters. She also provided practical guidance and tools to improve technical job descriptions in your organization. Some of those tools included a job posting checklist and apps like Textio and Watson's Natural Language Understanding that offer advanced language insights into sentiment and keywords.
Reducing IPv4 Address Waste: IPv4 Unicast Extensions Project: Seth Schoen, writer and the first staff technologist for the Electronic Frontier Foundation, delivered his talk on reducing IPv4 address waste. He explained that IPv4 address shortages have been exacerbated by the fact that a significant fraction of the IPv4 address space has never been available for numbering hosts. Decisions from the early 1980s reserved several hundred million addresses for "future use" and other purposes, and those addresses are now going to waste.
Seth spoke about how while reversing this is complicated, it would be extremely useful in light of the acute demand for IPv4 address space. He doesn't know exactly how much compatibility we can achieve over time, but he believes it would be better to start now in order to have more options later.
Enter the IPv4 Unicast Extensions Project. The project proposes software and standards changes to allow the option to eventually bring reserved addresses into use. Some of the changes have been accepted in systems including Linux and FreeBSD, and we've proposed four Internet-Drafts at IETF, one of which received quite a bit of attention on NOG mailing lists.
Seth expressed their hope that IETF (Internet Engineering Task Force) continues to accept the responsibility for maintaining IPv4. He also agreed that IETF and the Internet community should encourage IPv6 support in all new deployments.
Day Three
Privacy for Providers: Wednesday greeted us with more exciting sessions, including this one from Russ White, writer and network engineer. Privacy is a hot topic, but Russ noted that there's little information for the networking professional in this area. He provided a quick overview and thoughts on the area of privacy aimed at transit provider operations personnel, including packet processing and logging.
He suggests that privacy when processing packets is probably not a big deal for a few reasons: the privacy value of the information being used is questionable, as it's being used for its primary purpose and the confidentiality of the information is relatively high. The privacy of what's inside the data packet is a largely unexplored area though, and other than end-to-end encryption there is little transport services can do about it.
Overall, NANOG 84 delivered another amazing conference with great speakers and networking. We look forward to NANOG 85 happening in Montréal, Québec for the 85th annual community-wide gathering on June 6-8, 2022.
Here are a few fun highlights from the #NANOG84 Twitter stream:
Watching ⁦⁦@avifreedman⁩'s talk on #Kentik open sourcing of telemetry tools while shilling in this awesome shirt! #NANOG #NANOG84 pic.twitter.com/TGgswtuWKG

— datacenterdog (@datacenterdog) February 14, 2022
Nice to see our old friend at #NANOG84 pic.twitter.com/HQRgFra18n

— NANOG (@nanog) February 14, 2022
That's a wrap! It was great connecting and learning together. We look forward to seeing everyone again soon!#Nanog84 #HostSponsor #QuantumLoophole #AustinTX #globalnetwork #internet @nanog pic.twitter.com/BbKExemtg8

— Quantum Loophole, Inc. (@QuantumLoophole) February 17, 2022